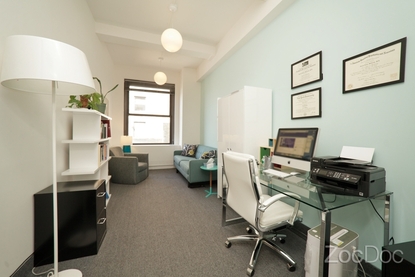 Below are brief descriptions of common types of therapy which I readily offer. It is not uncommon for a patient to find a particular style more helpful than another. In our initial sessions, the patient and I try to decide what approach is the most appealing and beneficial to them. Transition from one type of therapy to another is always an option, though at times, discussion of the change is perhaps more helpful than the change itself.

Psychodynamic Therapy:
Psychodynamic therapy places great importance on the relationship between the therapist and the patient. For many patients, this relationship is unique: the therapist maintains a reliable, calm and accepting stance; this stance is frequently unlike other well-intentioned people in the patient's life. In this context, insight and self-awareness develop. Positive changes extend into the patient's outlook and behavior.

The patient becomes more aware of their own thoughts and feelings as treatment progresses. The patient learns why certain coping styles, while adaptive at earlier points in life, may no longer work. Patients can then develop and practice more effective ways of dealing with their problems and relationships. In this way, deeper awareness and new insights stimulate psychological growth and help the patient to foster healthier relationships.

Cognitive Behavioral Therapy:
Cognitive behavioral therapy (CBT) is a therapeutic approach that addresses dysfunctional emotions, behaviors, and cognitions through a goal-oriented, systematic process. The premise of cognitive behavioral therapy is that changing maladaptive thinking leads to a change in emotion and behavior. CBT techniques help the patient challenge their patterns and beliefs and replace errors in thinking (e.g. overgeneralizing, magnifying negatives, minimizing positives, catastrophizing) with more realistic and adaptive thoughts, thus decreasing emotional distress and self-defeating behavior. CBT helps a patient replace maladaptive thoughts, emotions, and behaviors with more adaptive ones by challenging a their way of thinking. As CBT is a very "active" therapy, it has well-defined goals and requires the patient to complete homework assignments between sessions. This form of therapy frequently involves the use of rating scales to track the patient's improvement.

Psychopharmacology:
I combine a knowledge of evidence-based medicine (scientific studies of the efficacy of pharmacological treatment) with a strong foundation in psychopharmacology to assess what symptoms may be relieved though the use of medication. While many people are fortunate enough to have a complete remission of symptoms when prescribed an effective medication, many experience a more subtle improvement. In this regard, medications may be "tools to do the work" of feeling better, frequently with therapy being the "work". I strive to identify the most effective pharmacologic tools for each patient, and I will clearly explain realistic expectations of a medication prior to recommending pharmacologic treatment. I keep a constant focus on target symptoms and what medication is most likely to facilitate a remission of these symptoms.

In many circumstances, I pharmacologically assess and treat patients who are already engaged in therapy with another therapist (e.g. a psychologist or clinical social worker). In these situations, I request the patient allow me to collaborate with their therapist at the initiation of treatment and prior to follow-up visits with me. Most therapists are more than happy to have a prescribing psychiatrist take an active interest in their assessment of their client's symptoms.

Generally, I expect to see any patient I am treating with medication at least once monthly until we both agree they are tolerating the medication well and they are requiring minimal medication adjustment. In some circumstances, especially when starting a new medication, I may need to see the patient in one-to-two week intervals.

---
Daniel S Mundy, MD
Office: 646-801-1246 Fax: 646-863-4471
26 Court Street Suite 2218
Brooklyn, NY 11242